Obits and a Side of "Gas-oulet"
Today's interview features guitarist and vocalist Sohrab Habibion of Obits, the collaboration of indie rock veterans, though not military veterans, who have been rocking since 2007.  They are currently working on a new studio album.  Between chatting with his mom and heading out to band practice, we had a chance to discuss some culinary endeavors with Sohrab…
Q: Did you grow up cooking?
A:  Yes and no.  I'm an only child, so I grew up sort of fending for myself.  I wouldn't call it cooking.  I think the first real sort of cooking attempts were when I was like 15.  At that point I was a vegetarian.  That was kind of a new thing for me.  I had to figure out how I was going to make that work, experimenting with beans.
Q:  What influenced you to become a vegetarian?
A:  The long and short of it is, honestly, there was this really cool kid who moved to our school.  He was this punk kid from North Carolina.  He had liberty spikes, and he was a vegetarian.  There rest of us…were like man, that guy's really cool.  It wasn't peer pressure, it was more like peer influence.
Q:  What are some of you favorite recipes or ingredients to cook with?
A:  Let's see.  I'm really lucky that our kitchen is actually…appointed better than it used to be, before me and my wife because she actually went to cooking school.  She, in a positive way, makes our kitchen a lot more interesting.  For me, it's one of the things that I really like is that we are members of the food co-op.  So, the fresh produce is from there.  I usually eat a lot of kale, and they actually have a great cheese selection.  So I'm a big fan of trying all the different goat cheeses and feta cheeses from around the world.  I like lentils a lot, really like French lentils.  We eat a lot of chickpeas.  Recently, we've been making a lot of soups.  I also really like the Israeli couscous, the fatter couscous.  I make a good amount of risotto, and tomorrow, we're having friends over, so I'm going to make some paella.  Again, I should be sure to say that my wife is a major part of what goes on in the kitchen in our house.
Q:  What are some of your favorite risotto ingredients?
A:  Let's see.  I like it with squash.  When in season, I really like asparagus.  But you know, we usually make it with some sort of vegetable broth.  Honestly, we do.  If we have peas, they're usually frozen, but we like to cook with what's in season.  Like right now, the risottos we've made have been with butternut squash and things like that.  There's really great thing.  You know cassoulet?  My wife found this awesome recipe for a vegetarian cassoulet, which is really, really amazing.  It's a great like winter, hearty meal to have.  It has those Spanish gigante beans, you know, those big giant white beans.  And, like squash, and usually some chard in there.  It's really good, but it can be a little gassy.  We actually jokingly call it the gas-oulet.  It puts your digestive system to work.
Q:  Do you cook while you're on tour?
A:  It depends if we're going to be somewhere long enough, or we're going to be at someone's house, and we have that option.  The last time I can think of that happened when we were in Austin for South by Southwest maybe two years ago, and we stayed with a friend of ours.  They had chickens in the backyard, so they had fresh eggs.  We made a huge big spread breakfast for ourselves.  But, honestly mostly on tour the drives are long enough and the actual stays are short enough, it's hard to settle in.  Also…we go to Europe a couple of times a year.  We really like just exploring to see what they have, what's local there.  That's a lot of fun.  In advance, I contact some people and put the word out.  Like, 'Hey, if there are any cool places we should go eat, or if there are any cool farmers' markets, or whatever.'  It's been really fun.  We've had a really good time exploring food while we travel there.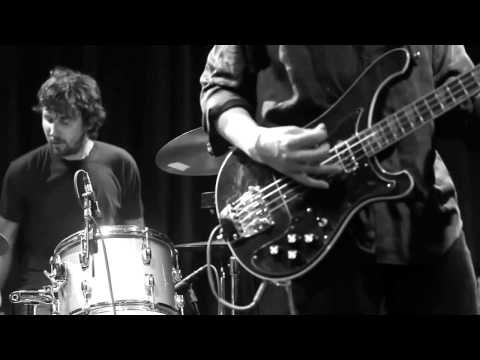 Q:  What are some of your favorite cities for food, either in the U.S. or internationally?
A:  U.S., probably more typical ones.  You know, living in New York, I feel that we're really spoiled.  But…you go to like Chicago, there's great food and San Francisco, there's great food.  San Diego there's amazing tacos.  In the U.S. there's really cool regional things.  The place that I went that was really cool, we did a tour of the South.  When we were in Raleigh, North Carolina, we went to this amazing restaurant, which of course now, I'm totally blanking on the name of it.  It was something you'd more typically see in New York now.  It was more of a farm to table or seasonal cooking, kind of New American.  It had this really cool, slightly southern bend to it, which was great.  The place we played was King's.  It was right around the corner.
Q:  What are some of your favorite New York restaurants?
A:  It kind of depends.  There's a couple of new places here.  There's that place Little Neck down on 3rd Ave. and Carroll Street.  It's like a clam shack kind of place, but it's really good.  I really like that place a lot.  And I like that place Rucola on Bergen Street.  It's over in Boerum Hill.  There's that place that's a total Al-Di-La that's been here forever down on 5th Ave.  I always like going there.  They just started opening up for lunch.  At night, it can get kind of crowded.  It seems like there's always something on Smith Street opening up.  (My wife) works for Zagat, so she gets to kind of go and check out the latest and the greatest, so I usually ride on her coattails as much as I can for that…A restaurant that I love is La Vara, which is run by the woman Alex, who runs Chiquita in Chelsea, and its really cool Basque food there.
Q:  What are your favorite festival-type foods?
A:  I think the best festival food we had was probably at this unusual festival in the Basque Country in Spain.  The reason it was good, it wasn't anything in particular, but it was actually made by the mother of the people who put the festival on.  And it was really, this great homemade thing.  I think the tough thing about festivals is you get into this very corporate culture; it's kind of less about the music and more about who is sponsoring the events, unfortunately.  And the same thing goes for the food part of it.  Like everything that's provided is catered, but it's really kind of generic, not that I'm totally ungrateful, but it's more the quantity of food they have available at all times as opposed to a specific thing.  So, it was nice to be at this Basque Festival where literally…the Mom was brining in these big colanders of soup and stuff.  I didn't have the meatballs, but everyone else was fawning over them.  They were like 'Oh, man.'
Q:  What's your favorite breakfast?
A:  Yogurt with fresh fruit and a little bit of granola.  No to be a brand dude, but there's this Australian yogurt that I really like a lot called Wallaby, so that's what I usually have.
Q:  What's your favorite dessert?
A:  I'm not much of a dessert guy, but I like stuff that mixes savory with the sweet.  So…something with like ricotta cheese in it.  Something that's not overly sweet.  You know Brooks Hadley, the pastry chef at Del Posto?  I think he's a great pastry chef because he kind of messes with the normal concoctions.  He leans toward the savory in a really cool way.
Q:  What's you favorite beer?
A:  I actually really like the Eastern European pilsners.  Like the ones you'd find here are like Czechvar.  I like a nice crisp, not the American version of a light beer, but light as in not viscous, doesn't weigh you down too much.  The thing that's become popular here, which I can understand, the American craft thing seems to made super hoppy.  I feel like one of those is fine, but the pleasure of drinking it goes away.  It's like making a meal out of a chocolate cake.  It's too much flavor.  The thing I like about the Eastern European ones is they have simple kind of profile…repeated pleasure.  I really like the Double Windsor.  They have an amazing selection that's always changing.  It's all craft beer, but literally after a couple of them, I'm like, 'can I have a Miller Genuine Draft?'
Q:  What is the worst meal you've ever had?
A:  Unfortunately, it's really easy to answer because it's not that long ago.  It was a club that we played in Newark, DE, and it was literally the worst food I've ever had in my life.  We all got different stuff.  I think I may have gotten a fish po' boy, in fact, I know I did.  It was an insult to the fish and the idea of a po' boy.  It was so rank.  You know its bad when the fries are bad.  If you can't deep-fry a potato, you're in trouble.
Q:  What would you want to eat at your last supper?
A:  I guess it really wouldn't matter.  The last flavor, the last lingering flavor you'd want?  I'd go for something with fresh mint or something.  Something with a little zest to it before you expire.
Q:  What's your favorite late night snack?
A:  Like dried nuts or something like that.  I guess it depends.  You mean late night like you've had too much to drink kind of thing?
Q:  Yea…
A:  Well, then I guess I'd have to change my answer.  Like grilled cheese or a BLT or something.  You want something a little comfy.
Q:  Your last full-length album was in 2011, any new projects in the works?
A:  Yea.  I'm headed to practice in about an hour.  We're working on our next record.  Since the last one, we've put out a couple 7' singles, but now we're actually getting down to business for our full album, which is fun.
Q:  What are some of the major influence for the new record?
A:  I think our main M.O. is not to try noy shoehorn it too much, just do whatever feels natural to us, and we definitely have certain predilections that we can't avoid, which is fun.  I think you want to have a common vocabulary, but essentially, try to make it, not repeating ourselves, not necessarily try to make something its not.  Just trying to let the music be what it is…I sort of feel like if you put on the first Clash record and the third Clash record it's the same band, but the vocabulary is extended a little bit.  It's a little bit more of a cinematic skill.  I'm not saying we're making Melancholy over here  We are trying to continue what we do, so it feels exciting to us, knowing there are built in limitations to our work.
In all, Sohrab definitely knows where to find some funky eats.  Obits is busy in the studio this winter, but they have a few dates lined up over the next couple of months.  Keep your eyes peeled for the new record and a show near you.