Soul Food for Soulive
Today's interview features drummer Alan Evans, one of our favorite musicians from the funk powerhouse, Soulive. This Spring, Alan is on tour with the Alan Evans Trio, before playing a handful of shows with Soulive this summer. Following the band's annual Bowlive run at the Brooklyn Bowl, we had a chance to chat with Alan…
Growing Up With Food:
Q: Did you grow up in a cooking-heavy household?  Was food a major part of your family life?
A: Without a doubt, it was really big.  I was actually just having a conversation recently with my wife and some friends of ours.  My grandfather was actually a chef on the railroads… And that dude, he could get down.  And this was back in the day, you know—when traveling by rail was very popular, and so the expectation was that it would actually be good, unlike, say airline food today…
So that was my grandfather… And then my grandmother… whew, she could burn, man.  So the funny thing is, given the size of our family, which is huge, when we'd have our holiday get-togethers, we'd all head over to Grandma and Grandpa Evans' house, for a kind of friendly competition, where you'd walk in and there would be two of everything.  What my grandmother made and what my grandfather made…
Soul food and Soulive:
And, you know, my brother and I are half Polish, but we grew up eating a lot of Soul food.  African American soul food and Polish soul food… go figure! Food was the biggest thing at the holidays, and obviously that carried into everyday life.
Returning to Japan:
Q: Soulive is headed to Japan again fairly soon for a mini-tour.  What's the culinary experience like for you when visiting?
The thing with Japan is, yes, the sushi is good there, of course.   But the misconception is that sushi is the be-all and end-all of Japanese food.  So when Soulive heads to Japan, I actually don't eat that much sushi.  But Japan is the only place I've been where I've never, ever had a bad meal.  I've never eaten anything bad in Japan.  You could walk into Denny's, man, and you're literally going to have some mind-blowing food.
One time we were walking past these Italian restaurants, and then some pizza joints, too, and I said to myself, "Why would I want to go there when I'm in Japan?"  But, we figured we might as well try it since we're here, and as we're waiting inside, our sound engineer was already outside with a tall glass of beer and a slice of pizza, and he's just shaking his head.  And he says, "Yo, you need to try this."  And it was literally one of the best pizzas I'd ever eaten in my life.  So then we all got on this kick, and started eating Italian food in Japan.  But there were no Italian dudes in the kitchen.  This was a straight Japanese version of Italian food… And I've been to Italy, you know, cause I have Italian relatives… So I know real-deal Italian food.  And this was just insane… And since then I've learned that Japanese culture takes such pride in what they do—and the food that they make—that it's always an unbelievable culinary experience when I'm in Japan.  Always.
Osaka, though, has been particularly enjoyable for me.  In Toyko, you know, there's lots of English on the menus and storefronts.  But in Osaka, they could really care less about English.  So my sound engineer and I would head out in Osaka to places where no one spoke any English at all, and nothing was written in English, and we'd sit down and ask for a menu, and we'd just order—we'd just order whatever.  Most of the time we had no idea what was coming at all… And we did this for the entire trip, and it just became addictive.  A lot of times we'd eat these meals and leave, and never know what we just ate… We had no idea, but it was beyond delicious.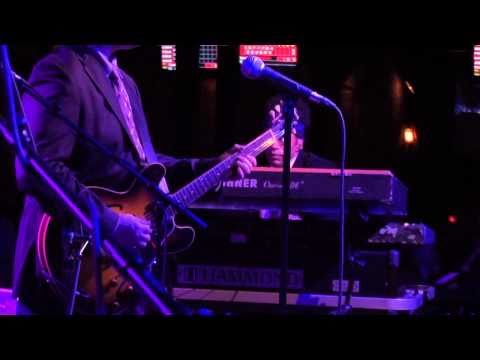 Daily Grind/Food for Funk:
Q: Do you have any favorite dishes or ingredients?  What's a regular day for you in terms of food?
I take food very seriously.  You know, I'm putting this stuff in my body.  It's what gives me energy; it's what gives me motivation.  So I try and eat well all the time.
So I can give you a little example of my daily routine… I usually start off with fresh juice… So that's apples, carrots, beets, ginger, celery, sometimes oranges, and kale.  And that's how I start my day.  And occasionally I'll have some Greek yogurt, too.
Q: And for lunch and dinner?
Well, my wife usually ends up making lunch, cause I'm often in the studio.  And recently she's been making this delicious mix of sweet potatoes, Brussels' sprouts, cauliflower, black beans, sometimes some spinach, usually steamed in olive or white truffle oil… And that's usually lunch, sometimes with a side of sweet potato chips or something along those lines.
For dinner it could be anything… from steak tips, salmon, and anything else, really.  It kind of opens up from there… For instance, one thing we've been eating a lot of recently has been these Brussels' sprouts, actually.  I've just been finding that they work well with so many dishes, you know?  And we'll do some Quinoa, too, as a base for everything else.
Q: I'm curious, given that you eat so many fresh fruits and vegetables, do you have a favorite place to shop?  Do you frequent farmers' markets?
Well, you know, I live in this area of Western Massachusetts, and specifically in the town I live in, we have so many farms I can't even count them.  So getting fresh produce, fortunately, is never a challenge.  And come the summertime and fall seasons, we really just sort of pick things up everyday, as we need them.  So we really don't visit the grocery store much during these times…
Studio Grub, Staying Fit, and Must-Stop Eateries on Tour:
Q: When you guys are in the studio, either with Soulive or the Trio, do you have any staple munchies or drinks?
Well, recently, one staple is coconut water, oddly enough.  Not really sure how that happened.  But we also have to have fresh juice, you know?  All these veggies and fruits just condense down into this super food that's just this great source of energy and nutrients, and you just feel satisfied.  When you eat heavy stuff it just slows you down.  And that's one thing I just can't stand.
But that's just me.  If I obviously have a band in the studio, then it's whatever they want.  But sometimes they'll see what I'm doing and get hip to it… So that's been nice.  But everyone has their thing!  When I was younger I definitely wasn't as good to my body; but now, taking care of my body and myself is a top priority.  I work out everyday now, and I just turned 38, and I'm honestly in better shape than when I was 28, and arguably even when I was 18.  I have no plans on retiring, you know, so I have to stay fit.
I read some research recently into very active musicians, where a 2 to 3 hour, hard-hitting set is comparable running a half marathon.  But for me, it all comes back to food.  I'm very particular about what I put in my body.  I love food, I love cooking, and I love going out to eat.  And I see it as very much the same as making music.  You get to experiment, and that's what it's all about!
Q: What about Krasno and your brother, Neal… Any weird food quirks you can think of?
Neil, man… If you want to put a smile on that cat's face, bring him some Nerd's.  He loves that candy.
Q: Do you guy have any favorite spots you like to hit up in certain cities when you're on tour?
Oh, definitely, man.  When we did Snowlive, just recently, there's a place in Lake Tahoe called Soule Domain.  And this is a great restaurant, man, really impressive.
But one of my favorite restaurants ever is this spot called Hugo's in Portland, Maine.  If you're ever in Portland, there is literally no other place to go.  I go there every time I'm in town.  And just recently I took my wife there for her birthday, and I asked them to put together something really special for her.  And when I looked at the menu, man, it was like 9 or 10 courses they had prepared.  And this was just the best experience for her and for us.
Q: One last question for you… Can you dish on any future Soulive plans?
Well, the Royal Academy is really the next big thing we have coming up.  And it's going to be lots of fun—5 days or so of teaching and playing music.  So stayed tuned, especially over the next few weeks and months: we'll be making more announcements.  It's not just going to be the three of us out there…
In closing:
I just love talking about music, you know?  But there's just so much more that goes into what we do to make music.  That often gets left out a lot.  So it's been a pleasure for me to rap about what is such a big part of my life, what makes what I do possible—food!
Keep up with the schedules of the Alan Evans Trio, Soulive and your favorite Royal Family Records artists here.
Thanks to Aaron Fumarola for once again conducting an awesome interview!