Krewe D'etat at the Westcott
Galactic at the Westcott Theater – February 28, 2012, Syracuse, NY
While we were unable to score an interview with Galactic drummer and New Orleans own Stanton Moore, we were ultimately treated to a smorgasbord of funk-laden treats straight from the belly of Nawlins, LA.  At a near sold-out show at the wonderfully tiny Westcott Theater in Syracuse, Galactic brought their unique blend of funk, blues, soul, and Creole music to Upstate New York for a dance-filled rager that was as much fun as it was musically skillful.
Having just released their latest album, Carnivale Electricos, on February 21st, Galactic was ready to impress with a bevy of new, Mardis Gras-centric funk tunes that would not disappoint.  Ben Ellman (harps and horns), Robert Mercurio (bass), Stanton Moore (drums and percussion), Jeff Raines (guitar), and Rich Vogel (keyboards) are more than your average funk band.  They are perhaps the pre-eminent funk band of our time.  With trombonist Corey Henry (of Rebirth Brass Band) and singer Corey Glover (of Living Colour) in tow, Galactic has trained and gigged relentlessly in the breeding grounds of funk and blues itself, New Orleans, Louisiana.
I've since listened to Carnivale Electricos, but rather than add my two cents to the existing heap of praise, I'd rather share a short review by Paul De Revere for Consequences of Sound: "Jazz and blues, originally forged in the great city of New Orleans, are two of the greatest American cultural contributions ever.  The dilettantes in N.O. funk band Galactic know this.  They [Galactic] pack that rootsy soul in modern, jamtronica pastiches of funk, zydeco, samba, marching band, and bounce into Carnivale Electricos, that band's Mardi Gras holiday record, which pulls from it's city's rich musical tradition reverently and dynamically with modern flair and a keen sense of history."  Live—as on the new album—Galactic threw down in usual fashion.  And now, back to the show…
The band members stormed the stage to rousing applause from the audience, and immediately dropped some of the heaviest funk that only a few bands in the history of funk can drop.  Not a second after Ben Ellman said, "What's up, Syracuse!" to the crowd, Robert Mercurio started laying down some of the deep, dirty bass that he is known for throughout every Galactic show.  And before we knew it, these 6 funk-ateers were trading solos so flawlessly and abruptly that it was sometimes difficult to know who was playing what melody line.  Jeff's guitar can go from simple, funky strumming to heavy shredding in seconds; but the standout member of the band is arguably their drummer, Stanton Moore, who is, in my opinion, the funk powerhouse behind Galactic's soulful melodies and hard-hitting rhythms.  Only one downbeat in, it is immediately evident that Stanton is this band's foundation.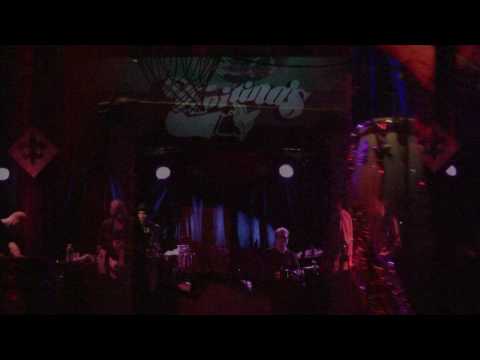 As a drummer myself, I cannot help but marvel at his ability to delve deep into the heart of what makes funk grooves funky.  His mastery at condensing and replicating the processional marches performed by entire rhythm sections—for which New Orleans's is famous—with only his four limbs is unmatched in the drumming world.  He has single-handedly re-invented funk drumming by re-interpreting the blues and march grooves of old.  Through an intense combination of hard-hitting beats and traditional New Orleans marching band grooves, Stanton openly dares the crowd to ever stop dancing… and dance we did, from start to finish.
With the introduction of Corey Glover early in the night, Galactic would continue to weave seamlessly into and out of vocal and instrumental tunes throughout their single-set rager.  And for a special treat, the band welcomed back to the stage special guests and New Orleans's natives, the Soul Rebels Brass Band.  For the next few tunes, with so much brass on stage and solos from each of the Rebels, the horn section amassed a sound so thick and heavy it felt akin to the body blows of deep, pounding dub-step b(r)ass… The two bands combined their respective fortes until reaching what can only be described as a 'wall of brass'—we could literally feel the punch from one horn line after another!
It's hard to overstate the infectious energy and thrill of a live performance by Galactic, a band that easily leads its audience on an unpredictable, brass-and-drums-filled march through hip-hop, soul, blues, funk, rock, and, of course, New Orleans's jazz.  Simply put, make my funk Galactic funk!
Written by Aaron Fumarola
Editor's Note – Photos are actually from earlier in February 2012 at the 9:30 club in Washington D.C., courtesy of David Y. Lee on Galactic's Facebook page.