Royal Family Buffet
As part of their 13th year anniversary as a band, funk and soul trio Soulive threw a monster 3-day party in the Green Mountains of Vermont, affectionately dubbed the "Royal Family Affair."   A blowout music weekend for the ages, the RFA was held from August 12th to the 14th at Stratton Mountain Resort, and included many other members of Royal Family Records, such as Lettuce, NEAL, The Formula, the London Souls, Kraz (DJ set), and a special weekend-closing set by the Royal Family All-Stars.
The venue itself consisted of a main stage directly at the base of the mountain, an adjacent late-night dancehall, and multiple vendors selling threads, glassware, and hand-made crafts.  Alas, given the perfect backdrop of the mountain, RFA organizers should have sectioned off the sloping sub-alpine grass for concertgoers to dance and relax, rather than the paved, concrete lot beneath.   Full Rager VIPs were able to enjoy a private viewing area with a stage-side keg, an upstairs lounge with free soft drinks and water, and hot lunches.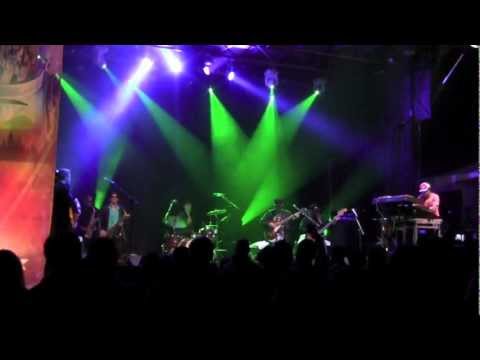 Other non-Family artists included a one-time, mind-bending set by John Medeski (organ), Adam Deitch (drums), and Skerik (saxaphone), as well as Ivan Neville's Dumstaphunk, John Brown's Body, Zach Deputy, the Sam Kinninger Band, the Jennifer Hartswick Band, and the Pimps of Joytime. Also headlining were Canadian synth-funk duo Chromeo and Colorado–based Big Gigantic, both of which brought their respective mix of future-funk, space, grooves, and live electronica.  Special late-night sets from The Formula (a pre-Lettuce ensemble that replaced Break Science due to scheduling conflicts) and Pnuma Trio-founder Paper Diamond kept RFA ragers dancing and grooving well into the morning hours. 
But arguably the biggest draw, and of course the raison d'être of Royal Family Records and the RFA, Soulive's performance was as tight and hard-hitting as any I've ever seen.  As a good friend of mine likes to say, "You can't find a bad Soulive show!"  With the Shady Horns in tow (Ryan Zoidis, Sam Kinninger), brothers Alan (drums) and Neal Evans (Hammond organ and bass) along with Eric Krasno (guitar) ignited their potent blend of soul, jazz, and funk to officially bring the weekend to a raging boil.  With a set that included both old staples along with new, revamped Beatles favorites, Soulive continues to redefine and expand the very horizons of funk music.  Plain and simple, Soulive is to the modern-day and future funk scene as Earth, Wind, and Fire and Tower of Power were to first incarnation of funk-rock in the '70s.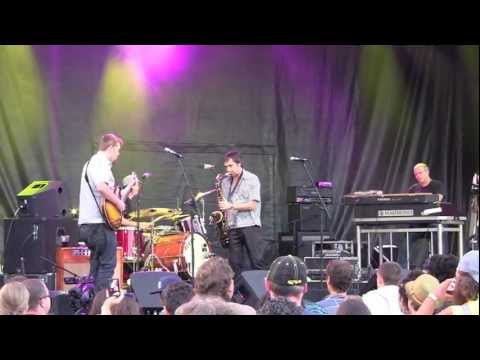 But what was the food scene like, you might ask?  Well…  While I was very much hoping for a cavalcade of food trucks and vendors to interview for Epicurean Musician, the only fare within the festival grounds was Da Jerk Chicken, which provided multiple tasty variations on the Jamaican-style classic.  In addition, on both Saturday and Sunday afternoons, Long Trail Brewing Company offered free beer tastings to all festival-goers.  Unfortunately, given the location of the festival within the heart of the up-scale Stratton resort, any alternative food options involved a pricy visit to one of the many high-end restaurants or cafes lining the base of the mountain.  After ticket prices, travel expenses, and hotel costs, the RFA quickly became an expensive affair…
Of special note, and perhaps my personal highlight of the entire weekend, were a series of master-class workshops held on Saturday and Sunday afternoons.  For any musician and/or music enthusiast, workshops of this kind are seldom under-appreciated.  Each hour-long workshop in guitar, percussion, songwriting, composition, and more, were a must-see element of this fun-filled weekend.  Educational and intimate, a total of six classes were led by Eric Krasno, Adam Deitch, Neal Evans, John Medeski, Skerik, and Alan Evans—each in their own right a powerhouse of modern-day funk, soul, and jazz improvisation. 
Musicians and non-musicians alike no doubt reaped the benefits of such a constructive, warm, and close-knit environment—average attendance was no higher than 50 or 60 people—and questions were actively encouraged from all attendees.  Topics such as music theory, performance, technique, inspiration, practice methods and more were covered at length, with such themes as "The Science Behind the Breaks (with Adam Deitch), "Expanding Your Musical Vocabulary and Improv" (with Eric Krazno), and "Message of the Moment" (with John Medeski)—which included two private, impromptu performances from Mr. Medeski as stirring as any I've seen from this virtuoso.  As a life-long drummer and music lover, each of these mini-seminars was truly an unforgettable part of the Royal Family Affair, and I sincerely hope that they continue and expand in future RFA festivals.
All in all, the inaugural Royal Family Affair was a truly enjoyable throw-down of great dance music.  Throughout the entire weekend, funk and soul filled the base of beautiful Stratton Mountain, bouncing off the resort's various hotels, shops, alleyways, and meadows, mixing together good vibes, devoted fans, friendly musicians, and serious revelry.
Please check out all upcoming tour dates for Soulive, Lettuce, Chapter 2, et al. including October 15′s Royal Family Ball at NYC's Terminal 5. Personally, the fall highlight will be at this year's Bear Creek Music Festival, which is a fantastic pre-JamCruise party set in the peaceful woods of Northern Florida.
This awesome review was written by our main man, Aaron Fumarola, who is a phenomenal drummer, percusionist and music enthusiast. He knows how to throw down and will be sure to serve up the funk to our fabulous readers again and again! Thanks Aaron!