Funky Grilled Cauliflower
We recently had dinner with Eric Krasno, the Royal Family Records patriarch who leads a handful of bands: Soulive, Lettuce, Chapter 2, The Fyre Dept and Dr. Klaw. Over a southern meal at the local favorite, Seersucker, Kraz opened up about his record company and the band's annual two-week run at the Brooklyn Bowl. He also shares some insight into his global culinary experiences and also his years spent as a farmer.
EM: We are both Brooklyn based, what is the local food scene in your neighborhood?
K: Well, in Greenpoint, it's changed tremendously since I've been there. But of course there's a lot of gentrification, and it brings a lot of money into the area, but it also pushes people out. So there's a good and bad. From my eye, I've gotten a lot of benefit from my neighborhood moving up that way, just because there's so many good restaurants and bars there.
EM: How do you see music and food connecting when you are on the road?
K: Well, I think they go together is so many ways. One of the things is, being a touring musician, you try so much amazing food. And a lot of times when we're overseas or traveling abroad, people really want to show us the flavors of where they live. Being on tour so much has just shown me so much incredible food.
EM: You guys have gone to Japan a few times, right?
K: Yeah, like 12… maybe 14 times.
EM: We talked recently with Chris Wood, from Medeski, Martin, and Wood. And he was talking about Japanese food, and he was saying how they use this spiritual, super-caffeinated tea that they really got into..
K: I love sake, too, so that's one thing to definitely do there. A lot of sake and a lot of fish—obviously a lot of sushi. But all types of fish. It's funny, they eat very rich food, but it's not heavy. It's very light.
NOTE: This was the moment in the conversation where we talked about our impending meal at Seersucker. While I was fixated on the shrimp and grits, Krasno honed in on the pork chop and the grilled cauliflower. Back to the Bowlive runs..
K: They really know what they're doing at the Bowl. I gotta give it to Pete Shapiro for getting it right. I'm so glad.
EM: Can you describe how you grew up with food?
K: My parents traveled a lot, and my brother grew up mostly in Brazil until he was 6, so as a kid my parents were into all different types of food. When we were in Connecticut I was always into different stuff. And then I went to a boarding school in Vermont called the Putney School, where we actually worked on a farm and grew our own veggies and food. It wasn't completely self-sufficient, but it was close to it. So I actually worked in the gardens and milked the cows. So that was a crazy experience for me. And I was actually vegetarian for a while, partly because of working with the cows. And that definitely influenced me a lot, and that's where I learned to cook since I had to work in the kitchen a lot.
I'm not the greatest cook anymore, because I'm in New York City and I go out all the time, but I have a few things I can make really well. But really, over the last 12 years of Soulive, I've really gotten to appreciate so many different things and different foods. Japan has probably had the most impact on me, though, because now I'm addicted to sushi, sake, and the like. But my parents have always convinced me into trying different things…
EM: Thats great. Have you ever played in South America?
K: We've only played in Brazil. But we do have a tour coming up—that's not totally definite yet—but if it does happen, it'll be Argentina, Chile, and Brazil. So I'm looking forward to that…
EM: Can you talk about the Royal Family? It's a record company, right?
K: Yeah, a record company is the easiest way to describe it, but we're trying to make it a brand. It's not really about making money off records; it's more about putting a collective together. Our goal is to put exclusive music through our website. That's just beginning. We're trying to stream live stuff, studio stuff, and then also hit up new tracks all the time. We want to use it as a launch pad for other artists.
I mean, I'll give it away, I don't even care. That's where I'm at right now, you know? Recorded music… The recording industry is falling apart, and I just don't care. I mean, I still play shows and get paid; but my own recorded stuff, I'm just like, 'get it out there.'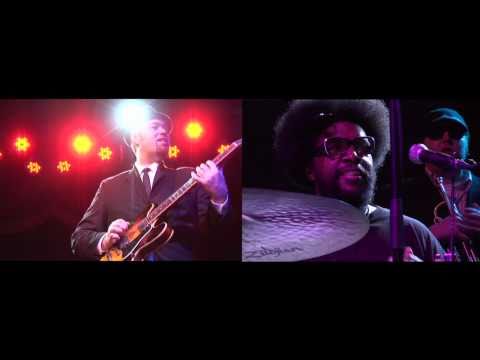 Krasno and the entire Royal Family have a very busy summer tour schedule for the rest of 2011. While he has played with the Royal Family at various summer festivals such as Electric Forest and Camp Bisco, be sure to check out the upcoming Royal Family Affair. This festival, from August 12-14, in Stratton, VT, will feature Soulive, Lettuce, Break Science, Chapter 2, Chromeo, Big Gigantic, Ivan Neville's Dumpstaphunk, Karl Denson, John Medeski, Jennifer Hartswick and many many more bands.
(Along with his various tours, Krasno has been busy in the studio producing numerous artists, including one of EM's favorites the Tedeschi Trucks Band)