Marc Broussard's Louisiana Eats
Let' s say that you've just landed at Louis Armstrong New Orleans International Airport and you've got a very serious mission: FIND FOOD! Well luckily, you've got a friend who knows the scene. We' ve got two days to hit five of the best restaurants across South Louisiana. Let's get a move on, shall we?
Since it' s lunchtime and we're close, let' s head over to
R & O
's in Bucktown for some poboys. This place originally opened in the back of a grocery store around 1980, but has since moved on to bigger things. When it comes to
poboys
, I generally go with the special, and this is no exception. The R & O special is, on the surface, just like everyone else's special: ham, roast beef and Swiss. But this dining room by the lake has a leg up on the competition. The gravy that comes trickling down your hands as you devour this sandwich is why they call it the special. For around $10, you get a poboy, drink and great service. You just can' t beat R & O's. After lunch, we take a walk down the levee and hop in the car, as our next meal will take us West.
Pulling into Baton Rouge around 4:00 pm and feeling more thirsty than hungry, let' s swing through
Tsunami Sushi
to wet the palate. This is the second location for proprietor, Leah Simon. The first location in Lafayette has been crushing it for ten years now. Located on the top floor of the Shaw Center, with its panoramic view of the Mississippi River, the 3500 square foot terrace is a great place to watch the sunset. Now, I know that when you think of Louisiana food, you don' t think sushi, but trust me when I tell you that Ms. Simon is keeping it real. Sure, you' re gonna find all the standards like the California roll and the Salmon Skin, but she breaks tradition with things like the John Breaux and Ragin' Cajun rolls. Only a girl from Louisiana would have the stones to throw crawfish and
alligator
 at a sushi crowd. The entrees are amazing as well. I'd put the Sumo Ribeye, a 24 oz. Allen Brothers Choice bone-in, up against every steak in town. The place just does food really well. The service and aesthetic always make for a great dinner. Now that we've got all that booze and rice in our bellies, I hope you're ready to sleep in the car, because we've still got some driving to do. Next stop, Breaux Bridge. 
It' s 8:00 AM on Sunday morning and there's a line out the door at
Café Des Amis
.  You can already hear the bellowing accordion and the bow gliding across the strings of the fiddle for this Zydeco Brunch. The menu is flush with swamp staples like couche couche, tasso, and crawfish etouffee, but I'm going with the Pain Perdu. Sliced French bread that's dipped in sweet batter and served with powdered sugar brings me back to my childhood. My grandmother used to make this for me while we listened to the radio playing those old Cajun songs, so this is truly nostalgic for me. Make sure to get a good grip on your plate though, because the place is packed with people dancing the Two-Step as a live band plays like it was Saturday night! This is why I love Louisiana. We need only the slightest reason to throw a party. "It' s Sunday morning? Aw hell, LET'S DANCE!" If you' re in Southwest Louisiana on a Sunday, you can' t pass up this trip to Café Des Amis. It' s a morning you' ll never forget.
The party takes you right through lunchtime, so we'll take an afternoon nap and then roll on into Carencro for dinner.
Paul's Pirogue
 is located in the heart of my hometown. This is the place that, as kids, my brothers and I would get fired up about dining. For my parents, I think it was their way of getting us excited about going to church. As soon as mass is over, it' s just a short walk over to Paul's for my favorite Cajun dish,
boiled crawfish
. A 5 lb order is incomplete without corn, potatoes, and a big soggy boiled onion. And a dipping bowl of Paul's Cajun Mayo never hurt anyone. I get my crawfish spicy, along with a cold beer for the perfect end to this Sunday. We'll have to convince somebody sober to drive us back to New Orleans, because you've got a plane to catch tomorrow, but not before one last breakfast in the Crescent City.
The wheels to this bus stop in Jackson Square, for breakfast at
Stanley
. This clean little diner has class and style to compliment a beautiful menu. Chef Scott Boswell has a cooking philosophy that, to me, is the Golden Rule of the kitchen: Don' t cook what you wouldn't eat yourself. There' s plenty on the menu, but look no further than the Breaux Bridge Benedict. Toast, Charlie T's boudin, cheese, poached egg and ham come together for a taste of comfort food, New Orleans style. The only word to describe this dish is silence; because that' s what you hear when the plate arrives. You know food is good when it has the power to hush a room full of New Orleanians! Breaux Bridge Benedict could quiet the Superdome on Super Bowl Sunday with the Saints in OT! Well maybe not quite, but you get the point. The dang thing is amazing. It' s one of those desert island dishes. Once you' ve had it, you dream about it. I know I do.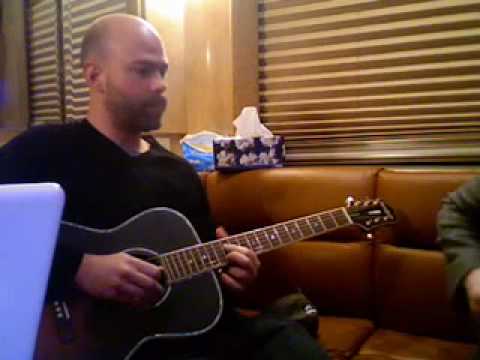 As we sop up that last bit of egg, we realize that our journey has come to an end. Like every trip to The Boot, you wish it wouldn't. But all great things must, right? If you lived here we wouldn' t have this problem, but you don't, do you? Well, we love when you come for a visit anyhow, so bring your appetite and your dancing shoes. As a matter of fact, your visit gives us another reason to throw a party! See you soon.
This post was written by singer songwriter
Marc Broussard
. Marc is currently on tour in support of his forthcoming self-titled fifth LP, to be released on June 14th. Also, check out his tour dates here. Many thanks to Marc for the amazing write-up!