Four Cold Chicken Sandwiches and a $75 Norwegian Pizza
For over ten years, Mastodon has been making some of the most beautiful, destructive, intricate music to ever grace the American metal scene.  One might be quick to think that a drummer with so much charisma and such heavy chops would love an intricate, complex dish, but this isn't the case. Brann Dailor likes to keep it simple.  Dailor goes on to talk about his early food experiences and the progression of Mastodon's eating habits since their early tours.
Epicurean Musician [EM]: Did you grow up cooking?
Brann Dailor [BD]: Uhhh… no, not really.  My mom cooked, a little bit, here and there, but as a kid it was pretty much mac-and-cheese and peanut butter and jelly sandwiches.  Food wasn't too important for me as a kid.  A peanut butter and jelly sandwich and tomato soup, that was pretty much it as far as my cooking went.
EM: Has food grown in importance for you, and not to make too many assumptions, but as you've gotten more successful and, perhaps, have a little bit more money to spend on food?
BD: Yeah, it definitely has, and it's become a pretty big part of my life.  I think when I met my wife, it's part of the whole thing, when you meet someone and move in with them, and you start, kind of, cooking food, and you start living, food becomes more important.  Her parents got a subscription to "Cooks" magazine.  So we always have found things to cook in there, and it always comes out awesome.  When you start cooking and things are coming out great, it makes you want to keep cooking.
EM: What are some of your favorite recipes and ingredients?
BD: The thing that I make that tends to be easiest is baked-ziti.  I use cottage cheese instead of ricotta.  I make my own tomato sauce and mix it with Alfredo.  I drip mozzarella cheese on top.  We have a lot of dinner parties and people love the ziti.  It's the only thing that they tend to request.  It's nothing super fancy, but I guess I've brought the dish back to life.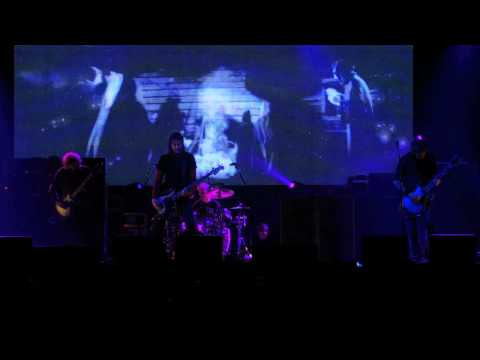 Touring: Bologna Sandwiches to Grecian Octopus
EM: Can you describe the evolution of Mastodon's tour-eating habits as you've risen in popularity?
BD: It really depends on the tour.  Sometimes you end up on a catered tour, which is great.
EM: Do you remember struggling and having to think about food when you first started? Or could you even describe living day-to-day early on?
BD: Yeah, it's awful, for years and years.  There was a little while there when we just had a cooler in the van with bologna and mustard.  We weren't making any money at the shows, we had no money.  And probably the little money that we did have just went to beer and gas to get to the next show.  Occasionally you would find a Mexican restaurant, or occasionally the promoter would buy you a pizza.  One time we played a show in Fargo,ND for four chicken sandwiches. They were good chicken sandwiches.  Some of the guys became members of the Subway Sandwich club.
EM: Praying for that free foot-long?
BD: Yeah.  I mean it was fine.  It hasn't changed dramatically, but now we look for something good to eat.  On a day off, you might park somewhere, like at a mall in Omaha in the suburbs, and the only options are Applebees, I mean what are you going to do, it's what you got.  But, if you go to a place like LA you have a ton more options.
EM: What are some of your favorite cities to eat when you do get a day off on tour?
BD: One of my favorite restaurants ever is in LA.  It's called  Street .  It has variations on street food from all over the world.  It's stuff you'd find on the street in Singapore.  There's a ton of different items.  It's real family style, tapas.  Little small plates.  There's main courses too.  You go there with ten people and order every single item on the menu.  Everyone shares, it's wild, and done really well.  She's (Susan Feniger) an amazing chef, and she's usually there and will come up and say, "Hi.
EM: What are some of your favorite local eats [Brann currently resides in Atlanta]?
BD: Well, I guess, our new favorite is the Local 3.  You know, it's comfort food, but it's done really well.  We've been here like five times in the last month.  They change the specials up and it's really awesome.  There's a place called Southern Comfort, it's a truck stop on the outskirts of town.  We go there for New Years, and it's wild.
EM: What's the worst meal you've ever had?  Something that almost induced vomiting.
BD: This is difficult.
EM: How about chicken sandwiches in Fargo?
BD: I actually had a $75 pizza in Norway that was awful.
EM: What?! What was wrong with it?  What was on it?
BD: What was on the pizza?  Cheese and pepperoni.  I'm not sure how they could screw it up.  It was terrible.  We had just gotten to Norway.  We had just checked into our hotel.  We were starving and sat down at this pizza place.  It tasted like cardboard once it came out.  The bill came, we didn't do the exchange, and we just plopped down our credit card.  My wife got a call from Visa questioning the $75 pizza.  The price made the pizza even worse. $75? Holy shit.
EM: Do any of your bandmates or fellow musicians have any weird food/eating?
BD: Umm, you know, it's tough for the vegans out there.  They don't have many options.  You're going to end up at a Denny's with everyone.  Our friend Kurt from Converge, his diet is so rigid.  He'll get a salad with no dressing, just the leaves.  He'll get a cup of hot water with lemon, and a piece toast… with no butter.  Everyone else is like: "I'll get the Moons Over My Hammy" or whatever they get.  He'll just sit there with his hot water, dry toast, and leaves.
EM: I feel like I understand the destructive nature of the last Converge album after hearing these eating habits and what he has to deal with.
BD: Yeah, I think it definitely has something to do with it.
EM: You have a new DVD out and an upcoming European stint.  Thinking of going back to Norway?  What are some of your favorite places to eat in Europe?
BD: Nah, you have to be careful over there.  You can't go American, just find the local cuisine.  I love the food in Portugal it's probably the best food we've had, eating by the ocean.  Actually Greece, we have a three day stop in Greece.  I ate a grilled octopus tentacle, with lemon and oil, eating by the ocean.  It's incredible.  I am definitely going to try to find the exact same place and have the exact same meal.  It's real simple food, but it's the best.  They load up the table with all these good foods.  I'm really looking forward to it.
EM: So no more chicken sandwiches in Fargo?
BD: No, I think I'm over that, but you know what?  I would probably still do it, why not?
-Pat
—————————————————————————————–
Mastodon released Live at the Aragon in March.  Be sure to check it out.