A Rocket To The Moon: On Tour Side
What started as a humble, individual effort by pop crooner Nick Santino,  A Rocket To The Moon is now a full-fledged band who just wrapped up their first ever headlining tour,  "On Your Side."  Andrew Cook, resident foodie, drummer, and super bowl food aficionado of A Rocket To The Moon talked turkey with me about the best cheese steak in Philly and his favorite wings (SPOILER ALERT: none of which come from Buffalo).
On Their Side of the Tour
I know that you're touring right now. How long have you been on tour so far and how is it going?
We're two and a half weeks into our headlining tour, so we're about halfway finished. It's been going great; we're really excited. It's our first ever headlining tour and we're pretty happy with the turnout (of the audience).
Where have you been eating during your travels?
What's new to us this time on tour is that we're on a bus as opposed to a van, so we do a lot more utilities on the bus so that we can pinch pennies here and there. We go grocery shopping since we have a refrigerator and a freezer, so we end up eating way more turkey sandwiches than we're used to. In terms of this tour, some of the highlights: in Philadelphia we like to go to this place called Rustica,where we've had some great cheese steaks this time around as well as pizza after the show. We've been experiencing what some of the local flavor is in every town after our each of our shows. We get pizza almost every night after the set. We've had some really good ones. New Haven stands out as having some of the best pizza that we've had. Actually today in San Francisco we're going to get some sushi at this place a few blocks up. Last time we were here we ate there and we had a really interesting special. It's an oyster on a half shell with a raw quail egg, some beluga caviar, and maybe some truffle oil I think it was. There was some sea urchin in there, too. It's called an oyster shooter and it was pretty epic, so we're talking about going there for dinner. It was a pretty wild dish; I have never had anything like it. Worth trying for sure. One of my good friends is a chef here in San Francisco at what people consider one of the best restaurants in the city called Gary Danko. My friend is a big food guy and takes me to a lot of great places when we're here for the best burger and the best breakfast. He took me to a place called Brenda's Soul Food, which is notorious for being one of the best breakfast places in the city and it was just amazing. I tried an oyster scramble, which was fried oysters and bacon in an egg scrambler with a homemade buttermilk biscuit with potatoes and stuff. It was incredible.
I know you said you have been grocery shopping while touring, but have you been able to actually cook? Do you have a stove on your bus?
Not really, but I do make breakfast for everybody a couple of times a week because Nick bought a griddle from Target. It's one of those $40 big griddles. I've been making some good eggs for breakfast; I'm a big breakfast guy so every once in a while I'll do an egg scrambler with prosciutto, onions, peppers, and tomato with some turkey bacon and hash browns and spoil myself. Sometimes I'll make breakfast sandwiches for everyone who is awake. I enjoy cooking breakfast.
Influenced By Mom, Dad,  and Adam Richmond
Did you grow up with cooking?
Both of my parents cooked; my dad is a great cook. He's a great grill master. He could make any meat on the grill. I was really lucky growing up. Both of my parents are self-employed and have always done OK. We're a middle class family—I was raised to enjoy life. I'm not one of those people who frets a lot about money. When it comes to going out, I like to do it for the experience. Growing up we went out to eat a lot and I got to try different things. I traveled a lot as a kid so I think that expanded my horizons which prepared me for this lifestyle.
What kind of cuisine did they typically prepare?
American; my dad would make stuff like roast pork tenderloins. We didn't eat a lot of ethnic foods. We had German food here and there, my mom had some German heritage, but didn't make anything too fancy, like kielbasa and sauerkraut, which was made in the crock pot—my mom liked to make stuff in the crock pot a lot. That was a pretty common dish. A big thing in my house is seafood. I love all seafood pretty much unequivocally. I was raised to appreciate that. I was eating lobster at five.
Would you say lobster is your favorite seafood?
Yeah…I would say overall sushi is my favorite food. Lobster is right there neck and neck with it. King crab legs are up there, too, because it isn't something you get to eat all of the time like sushi because they are a little more expensive.
What is your favorite type of crab?
Alaskan King Crab. Actually one my favorite meals on tour was when we went to The Crab Pot on the pier in Seattle because we saw it on Man vs. Food.  We like to try to eat at a lot of the places we see on that show. Not necessarily to do the challenges, but just to try the cuisine. We had about four or five of us go in on it and you had to pay a certain amount of money per person then pick which pot you want. They make a giant pot with a couple different kinds of crab, mussels, clams, corn on the cob, sausage, potatoes and fish. Then they cover the table with paper and just dump the on the table and they give you a little wooden mallet and cutting board and you smash the shells and dig in like family style meal. It's kind of awesome.
I know what episode you're talking about!
Actually when we were in New Haven, on this tour, we got a tip from a friend to walk around the corner and they were filming for Man vs. Food Nation. I guess what they're doing now is Adam doesn't do the challenges anymore, but rather he is coaching people to do challenges. He was coaching a kid who had the record for a grilled cheese challenge. There was a grilled cheese truck at Yale and I guess this kid was trying to break the record to eat these 10 grilled cheeses, so we got to watch that happen. It was pretty cool.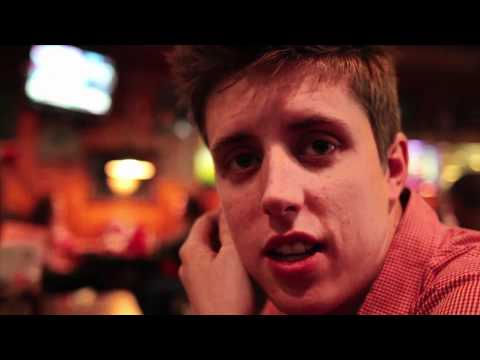 When you were in Philadelphia, did you go to Pat's or Geno's? Because they are the rivalry cheese steak stands and I'm curious as to which you preferred…
I've had a lot of them in Philly, but my favorite cheese steak there sadly no longer exists. Gianna's, it was right around the corner from TLA. It was on 6th and South St. Actually the one I liked the most was the fake meat cheese steak from there. It was incredible. It was made from seitan. Anyway, I like Jim's more than Pat's or Geno's.
New York, Obviously!
Which city is your favorite for eating?
Probably New York. I used to live there so I've been to hundreds of places in and around New York, including Hoboken. I used to work in a restaurant in Hoboken called Amanda's on Washington Street.  When I was working there, it was rated the 4th best restaurant in all of New Jersey in the Zagat guide. We were spoiled and were able to eat that food a lot. It's amazing. I also love Red Bamboo which is a vegetarian Caribbean/Soul restaurant in the West Village.
Isn't Red Bamboo primarily vegan?
Yeah they have a lot of vegan options. It's all vegetarian but not strictly vegan. It's on West 4 and 6th Ave.
And the Best Wings Go To…
Where did you grow up?
I grew up in Western Massachusetts.
Did you have any staple dishes out there?
Yeah…like I said before my parents liked to eat out a lot, so I've been to every restaurant in the valley where I lived pretty much. There are some things I will miss greatly when I move out of the area. I think my favorite wing place in the whole world is in Amherst. They're boneless wings at this place called the Hangar.  It's on the University of Massachusetts campus and they hand-bread their wings. The meat is never frozen and they have 30 different flavors. When you order them they come out in less than five minutes no matter how many you order. Other than that there's a place called Woody's in Boston. They're boned wings but they probably have the best flavor of any buffalo wings I've had. In terms of Western Mass where I grew up, there's a staple pizza place on U Mass campus called Antonio's,  and my other favorite pizza place is this Italian restaurant called Joe's that my dad has been going to since he was a kid. They have a "secret sauce" recipe that has been in their family for 100 or so years. No body knows it besides the family. It's absolutely delicious.
Have you ever been to Buffalo, NY?
I have.
So have you ever had their wings?
I have had buffalo wings from a few different places and was thoroughly impressed.
But you still like Massachusetts the best?
Yeah…in terms of wings on the bone I think Woody's in Boston takes the cake. I was at a really cool thing recently in New York when I was staying with a friend which was the Best Wings in Brooklyn cook-off at Red Star Bar in Greenpoint. I was lucky because my friend was photographing the event for Vice magazine so we didn't have to wait in line, which was at least three to four hundred people long and very cold outside so I was thankful for that. So there were I think 15 of the most highly rated places in Brooklyn with the best wings. You could go around with a beer in one hand and a plate in the other and try all of the different wings, and then at the end you cast your vote for who you thought had the best wings. There were some really great wings there.
I'm not a meat-eater but I am sucker for wings, and would absolutely go by recommendation…
You have to get the buffalo wings from Red Bamboo then. They'll change your life.
The Battle Continues
And now for age old battle: coffee or tea?
Ah yes the age old battle…I think it all depends on the time of day but I like both. It's like apples and oranges. They're both so good. If I had to choose one for the rest of my life—if someone had a gun to my head and had to choose I would probably go with tea.
What kind of tea would that be?
Green tea because it's the healthiest. It's great iced. It's great hot. You can get different flavors and make cool concoctions with it.
I agree. Jasmine green tea is my favorite. It's so beautiful tasting.
There's a place in Amherst called Fresh Side which I really, really like. It's kind of a Thai fusion restaurant that has a lot of teas. One of my favorites from there is an iced jasmine green tea with coconut milk that is outstanding.
—
You can download A Rocket To The Moon's   "The Rainy Day Session's " EP here.
-April