From the Kitchen to the Stage
Eric Axelson was kind enough to carve out half an hour out of his newly hectic touring schedule while The Dismemberment Plan was on day two of their tour where they were in Boston watching President Obama give remarks on the protesting in Egypt.
Epicurean Musician: How does it feel to be touring again?
Eric Axelson: It's weird because we did it for 10 years, and for a long time it's been such a natural thing to do. Just remembering how these patterns and schedules work. It's fun. It's been great seeing people and playing.
Did you grow up with home cooking?
I did, yes. My mom cooked a lot as a kid. She made standard American food, like steak, or casseroles, hamburgers, spaghetti–that type of thing.
Did you pick up your mom's cooking?
We cook a lot together now, but actually I learned a lot from college while working in a restaurant with Jason (band mate). We worked in a restaurant in a college town called Sammy T's that was probably about 75% vegetarian. I did prepping, and being on the line being there really helped my confidence. That's where I got my best cooking education. It was a tiny little restaurant that was run by hippies in our college town in Fredricksburg, Virginia. At that time I was learning how to cook with tempe and tofu.
Are you vegetarian?
I eat fish, but I haven't been a consistent meat eater in about 18 years. When traveling I dabble, for example, in Japan if someone says "Oh the beef tongue is amazing" I would have a bite, but I would never order a whole dish of meat–that's how I get sick.
Winter Recipes
Favorite recipes or favorite ingredients to use?
Garlic–favorite ingredient. I make a lot of winter dishes; a lot of soups, like roasted vegetable soup. Roast a bunch of sweet potatoes, onions, garlic, parsnips and turnips in the oven for an hour and half or so with olive oil and sea salt. Take that out and puree it and add a vegetable stock and add a little sage, thyme and black pepper. It's a nice cold weather soup. Another dish that I took from a restaurant is a baked cabbage dish. You take a head of cabbage and cut it up into big chunks, and add onions, carrots, garlic, and you put about a half cup to almost a cup of olive oil and add sage, crushed red pepper and black pepper and you bake it for about an hour and a half hour covered, then uncover it and let it bake another half hour to let it crisp up a bit.. It's really good winter stuff. I actually have a garden where we cook a lot of stuff from there during the summer.
What's in your garden?
Last summer we grew beans, onions, red swiss chard, mesculan greens, tomatoes, jalapeños, green peppers, acorn squash, radishes, beets–a lot of beets, love the beets. Some herbs. It was a pretty good size garden for a city garden.
Jammin' and Picklin'
I went to the farmers market a lot during the fall and this one lady (there) does a lot of jarring and jamming. She taught me how to make apple butter. So we'd go to the farmers market to buy varieties of apples and cook them down for a long, long time with brandy and brown sugar and make it into apple butter which is a lot of fun. I need to learn more from her because she also did a lot of pickling. She did stuff like green beans with garlic and rosemary which was phenomenal. As soon as these shows are done I need to get back in my kitchen more.
Have you thought about getting back into the restaurant business again?
When the band ended it crossed my mind a little bit. A lot of friends who I talked to who cooked full time had a lot of interesting advice as far as if you love to cook, it's not the same as being a full-time chef. It would be more of a skill as opposed to something you do that you love. I'm more of the latter. And then as far as running a restaurant I looked into that and did some research. A lot of friends who ran restaurants said, "You know, you're going to live there for the first five years and you don't have any down time. You can do it but the odds are against you and prepare to not have any days off for five years." I got a little scared.
Do you cook while on tour?
Early on when we were young and touring we were broke. We cooked all the time to save money. Now we get money from the club to get dinner. You know when you're young and playing to empty rooms and peoples' houses, we learned how to feed the band for ten bucks. There'd be four of us plus the sound guy. For ten bucks we'd buy a box of spaghetti, a jar of sauce, a bag of carrots, a loaf of bread, and I think an orange juice for the morning. It would be enough to get everyone full for the night. Then in the morning we'd get a dozen bagels and that would be all…starch.
Where did you usually cook?
We stayed at people's houses. After the show we'd be like, 'Hey so…we're not from here but if you have floor space and sleeping bags we'll stay real clean and quiet and we'll be gone in the morning." People will also offer the use for their house. It's kind of the reality for young bands. Eating on the cheap. Peanut butter and jelly or tuna out of the can.
What kind of places have you been eating at during this tour? Are there places you've been revisiting from previous years?
This is only our second day out of town. We're playing different clubs than we used to. In New York tomorrow I'm hoping to go to Otto. It's a Silician place (near Washington Park). My favorite thing is a dessert they do…an olive oil gelato, sea salt gelato, and lemon lavender gelato. They do a pizza with cheese and fried egg on top with a nice puttanesca sauce. I'd also love to get to Magnolia Cafe in Austin, TX or The Grit in Athens, GA.
Since you're in Boston tonight, where do you like to go there?
We used to play The Middle East all the time where we'd eat falafel and hummus. In the morning there's a place we liked to go to called the Deli Haus. It's a little diner…a greasy spoon.
Are there any particular cities or towns that you look forward to going to for food?
New York has kick ass bagels. In Seattle there's always good Thai food and sushi. In Chicago there's one—Handlebar. And The Chicago Diner is a great brunch spot. For breakfast we used to go to Ann Sather, which is a Swedish place. It's so heavy that everyone finishes and fights for the back bench (of the van) to go back to sleep again. It was kind of a curse because if you didn't get that back bench then you'd have to drive and you'd be full of all of this…food. And it'd be so hard. It's the kind of place where you'd order your food, and they don't just bring out rolls, they bring these big, stacked plates of sticky buns and danishes. You eat two or three and then they bring your food out and you're like, "Oh fuck, now what?!"
And then the person driving needs an extra large coffee.
What are some of your favorite restaurants in DC?
Jaleo, the tapas place. A lot of small, Spanish plates with a great wine list. Tebia, a high-end Central American restaurant. They do phenomenal fish and a yellow gazpacho…like a yellow gazpacho sorbet in the middle of it. They also have great cocktails. There's really good pizza in DC—not like in New York—2 Amys where they do artesianal pizza. Oyamel is a great Mexican restaurant. They do a Tequila Mezcal tasting where they hand you dishes to go with it.
Going Veg
Since you are vegetarian(ish), is there any reason why you don't eat meat?
It started off as an experiment. Literally I was going to try it for 30 days and see how it was. I felt a lot better and the more I read about it the more it made sense to me. Then I dabbled back in forth into different "levels" where I tried being vegan for a while and I didn't love that. I went back and forth with fish for a few years and eventually I found out that my body liked having fish, I liked having dairy, I didn't like having meat and when my body doesn't have dairy it misses it. It's all about finding where you're comfortable. People think it's an all-or-nothing thing but you know, you could quit eating red meat and be happy and just eat chicken and fish or quit everything and just be vegan. It just felt right for my body and it felt good.
I think being a vegetarian kind of makes you think and plan ahead about what you're going to make and how you're going to make it and how you're going to make it a balanced meal.
Right. It definitely made me cook more because when I went veg it was 1992 and there weren't many veg options out so I cooked a lot more at home and get in the kitchen and fend for myself. It definitely helped me be the cook I am now.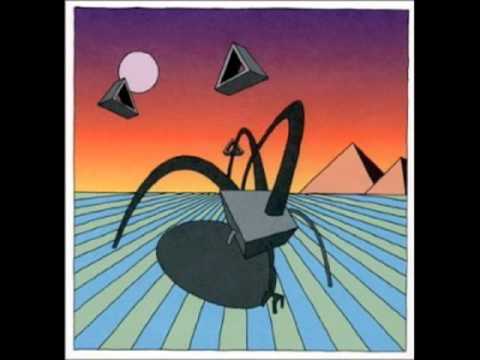 —
You can buy "Emergency & I" reissue on vinyl here.
-April Guse