Trouble Bustin' In From Outta State
After a quick ride down the Garden State Parkway and a few Nathans hot dogs later, I was ready for the much-anticipated Phish Halloween concert at Atlantic City's Boardwalk Hall.  
While the recent reviews of the show have been focusing on the musical costume, which I will certainly mention below, little is said of the actual venue. Of course, Atlantic City has been on everyone's mind recently. No, not because of any Bruce Springsteen reunion tour rumors, but because of HBO's new hit Boardwalk Empire. While the city itself doesn't resemble the glory of yesteryear, this venue seriously transported me to a time where I could see brothers Nucky and Eli Thompson drinking whiskey sours in the balcony. The building, built in 1926 and restored in 2001, contains an amazingly ornate ceiling, a massive border with the insignia's of each of the 48 continental states and also the world's largest pipe organ. Lately, the venue has been used for hockey games, bull fighting and Wrestlemania, yet I could think of no better a place to see one of my favorite bands perform a concert that was 365 days in the making.
Sadly, I missed the Friday and Saturday performances in Atlantic City. If you can get ahold of the recording, Saturday's show contained a handful of Led Zeppelin teases throughout. These teases were definitely in response to the overwhelming suspicion that they were going to cover Physical Graffiti, the double-LP released in 1975 and oftentimes thought of as the bands greatest record in its history. For those who don't know, since 1994, when Phish plays on Halloween they always cover another band's album in its entirety. Past covers have included the White Album, Quadrophenia, Remain in Light, Loaded and last year's Exile on Main Street.
This year, after a phenomenal first set which included many Halloween-referenced tunes, like Frankenstein, Roses are Free, Ghost and Spooky (which hasn't been played since 1993), the band paid tribute to Little Feat's 1978 live release, Waiting For Columbus.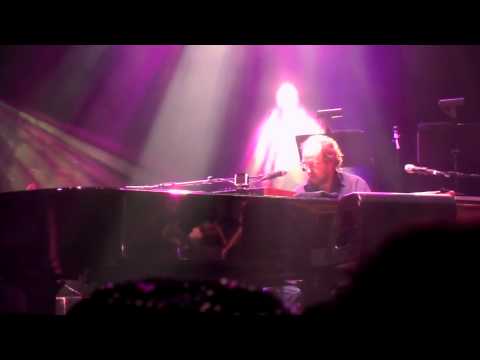 Most fans seemed surprised that this was the musical costume, but after reading the accompanying playbill and article by Rolling Stone's David Fricke, it was apparent why the band planned to head to Dixieland. Little Feat was one of the various bands that Phish idolized when they formed in Burlington, Vermont. The story goes that when Mike Gordon heard Join the Band, he knew that he wanted to play music just like Little Feat.   This past Sunday, we saw Phish nail the musical costume with the assistance of a phenomenal 5-piece horn section and also an incredible percussionist, Giovanni Hidalgo (Editor's note: Original post mistakenly thought he was a member of Little Feat). The album contains one tune that Phish has covered in years past, Time Loves a Hero and many others you would probably recognize from your favorite classic rock station. Notable standouts were Willin' which featured Mike on piano, Don't Bogart that Joint, performed acappela, and the final song Feats Don't Fail Me Now which was followed by a New Orleans-style parade around the floor of the venue with every Phish band member playing percussion in front of the marching horn section.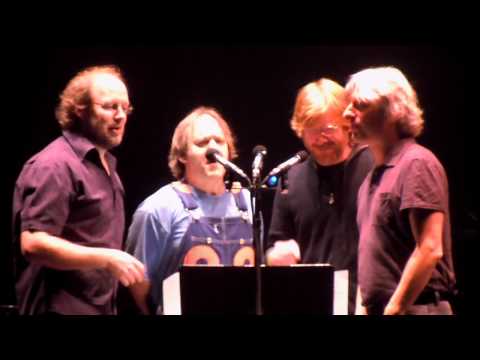 The final set featured some great classics as You Enjoy Myself, Harry Hood, Camel Walk and an extended Gotta Jiboo. Another huge highlight of the show was the encore, Julius, which featured the return of the entire horn section and Giovanni Hidalgo on percussion.
Unfortunately, many people were disappointed that Phish didn't pick a more audience-friendly album to cover, but I completely approve of their choice. Phish has always been known to focus on their roots in order to move forward, and this album choice did just that. Little Feat's combination of rock, jazz, funk and Dixie-style playing has definitely influenced some of the greatest tunes in Phish's career (Gumbo, anyone?). This show was a great introduction to a classic band that I knew little about and I am thrilled to have witnessed the fabulous foursome out-do themselves yet again.  Now begins the wait for 2011′s musical costume and I still am hoping for Graceland featuring Ladysmith Black Mambazo!