M-E-T-H-O-D (man) to the Madness
It's pretty much the Emerald City for Hip Hop that happens every summer  all over the country: Rock The Bells!  The coming together of hip-hops most talented and celebrated artists putting on a day's long show of music for their fans. Having had the chance to speak with Chang Weisberg, the creator of Rock The Bells and Guerilla Union, we spoke about Hip Hop, bringing the music to the people, and all that goes on behind the scenes.
The Vision
"When you think of an overall vision for an experience, music is apart of it. A diversified music experience is key, the recipe for success with RTB  and any of our festivals is to create something that has never been created before and always to have a historic standpoint attached to it.  We've been very fortunate to reunite Rage, Wu-Tang, Tribe and Pharcyde which is a key component to RTB"
Growing up Chinese in Southern California
"I come from a predominantly Chinese background, my mom cooked a lot of Chinese food. I wanted to play baseball and not take piano lessons.  She wanted to cook Chinese and I wanted In-n-Out. She wanted to make fried rice and I wanted spaghetti because to me, I grew up traditional Chinese but always wanted to be accepted. One of the nice things growing up in SoCal with an Asian mother, you're surrounded by 50% of the population which is Mexican. There's great Mexican food, there is Chinese food. There is a full melting pot of influences, eating and growing up. It has definitely translated to what we've done to our festivals, which is trying to be a melting pot and bringing everyone together under some common DNA and celebrate the cultural individualism and celebrate something that everyone likes."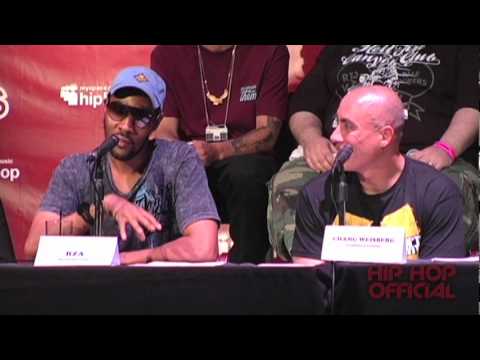 Chang on the various RTB Palettes'
"We want variety, we always like to make sure there are vegan choices, and ethnic choices. The DC palette is different then the LA palette, the NY palette is different then SF one. Our food and bev operators are conscious of that situation and we're able to do a little bit more. It's not a music festival without funnel cake, if you don't have a little bit of white powder all over your body, you're not having a good time."
Governors Island, NYC  Rock The Bells!
"It's going to be beautiful, I'm looking for Gov. Island to be the permanent home for RTB. I think it's great that there are easy to get to ferries to get you on and off the island easily. It's accessible by all the boroughs. It's unique too because you'll get those from Toronto and Europe coming too. Things are going well in the NY Market and we're on pins and needles waiting for a historic day of hip hop. Wu Tang is doing 36 Chambers for the first time ever, all of Staten Island is going to be there." [laughs].
Rock The Bells is going on at the end of August in DC, NYC, San Francisco and LA. August 28th here in New York City! Wu-Tang Clan is doing 36 Chambers in its entirety, Snoop Dogg is doing Doggy Style, and A Tribe Called Quest is doing Midnight Marauders!