Viaja el Mundo con Ozomatli
A few weeks back, Jiro, Wil-Dog,  and Raul from Ozomatli sat down with EM for a great meal at NYC's Delicatessen in Soho. Over brunch, the guys shared their favorite culinary experiences as cultural ambassadors and also their impressions from countless cities around the globe.
Hailing from east LA, Ozomatli offers a unique blend of funk, hip-hop, latino and rock music. On the heels of their newest release, Fire Away, the band has continued their never-ending international tour, recently returning from China and the Far East. For the last few years, the band has been playing music around the globe as cultural ambassadors through a special program through the US State Department. Aside from performing for international audiences, the band often plays for orphanages and other groups of youngsters. Over the few hours we spent together, Jiro, Wil-Dog, and Raul dropped serious knowledge with stories and showed how amazing their opportunity has been.
Jiro: "You see how people live, but the differences in what I've noticed is that…people are happy. There's a certain vibe in countries that might be poor. The kids and people are, on one hand struggling, and on one hand, they are living life."
Wil-Dog: "We get to eat at really nice restaurants. We also try local foods. Some places use cow dung as fuel. Some serve peanuts that are heated up in this cow dung. Don't try the cow dung. I didn't get sick. I'm willing to try anything."
Raul: "One time I was electrocuted in Madagascar, it was a real bummer. It was 220 volts. The venue was plugged into the power lines. They were running a lot of power for an outdoor show. Everyone was really excited, we had just played a few days before. It was 4000 people. Sometimes before you play you can tell its going to be electrifying. Sure enough it was. Microphones and pickups are open magnetic fields and I became the ground. It was serious. I flailed around and took a while to get better."
Jiro: "I think this band in particular, we really love food and love to find whatever it is. If we're in Seattle, I'll want to go get oysters. A few days ago we were in Mexico City with Uli's family. They took us to this little place, 40 minutes away from the airport hotel. Its this little spot, it's the size of a walk-in closet. Its called Taqueria Pedro. A small, whole in the wall family run place. They were telling us that these were the best tacos. It started out with a bowl of soup, called chiluca, which is caldoderas. It was beef broth with chopped up tiny pieces of beef. They brought out plates of suadero tacos, a plate of tripas. I'm very adventurous, ill eat anything."
Growing Up With Food
Jiro: "My mom is a cook. She teaches cooking. I grew up around Japanese food and French cooking. Shed experiment recipes on us."
Wil-dog: "I grew up on welfare. My mom was never a sophisticated cook. I grew up literally on pork chops, spam, bacon. I remember one thing I used to like was what my mom called 'Popeye Eggs' which was a hole in the middle of a piece of bread and crack an egg in it. I didn't really trying a lot of food until being in this band. Once I was really making a living playing music and kind of jumping up to a different economic status bracket was when I began trying food. I didn't try sushi until my mid-20s. I'm really into food now. I'm a snob. I'm a food snob."
Raul: "My family was on the poorer side of east LA. When you grow up you don't know if you've got it good or you've got it bad or you've got it good. Things from cabbage and hot dogs to freedaio which is pasta in a Mexican-ized sauce. I first learned about food when I was in a choir when I was young and we would get out of the city. Through them I learn about Jewish food, southern food, etc. I remember coming to NY and trying artichokes when I was 9 or 10. I learned a lot about food when I would get out of my neighborhood."
India
Rauk: – "India was like an alternative universe."
Jiro: "There's a history. An ancient connection, an ancient wisdom. You walk down the street and there are all these people. Its almost psychedelic, the spirituality is so in your face, I don't really understand it."
Raul: "You can be with so many people. You share the road with tons of cars, people, elephants, and cattle. It's bizarre. Everywhere you go there all these things happening that you don't see at home. It puts you in a heightened sense of awareness. Its hard to get clean water, so you're always feeling the pressure of that. You cant get clean water. You actually have to remember to bring water. It's a different kind of awareness. You go into the streets and there are weddings, so many things happening simultaneously. Its every aspect of everyone's life happening at the same time."
Jiro: "Driving over there is nuts. It's like chicken. Honking out there is a whole language. Here, its like 'Get out of the way'. There, its like 'I'm passing on your left, I'm passing on your right'. It sounds like Ba-ba-ba-ba-ba-ba. It's kind of a trip. The driving rules are very chaotic."
Vietnam
Raul: "The best food I've ever had is in Vietnam. It's the freshest, healthiest, really flavorful stuff. We went to this real interesting place, this guys idea was to have all the different regions of Vietnam in the same restaurant. When you walk in its people making foods at all these different stands."
Nepal
Jiro: "We are the first western band that ever played Nepal, we played in an outdoor square for 10 or 15,000. They warned us before the show that if crowds don't like you, they will pelt you with rocks. They had the crowd 100 feet away from the stage, but we told them 'Listen, we opened for the Offspring, where everyone hated us'. We asked them to bring the barricade closer so they moved it 50 feet. We put ourselves out there to connect with the audience and they ended up liking us."
Turkey
Raul: "Theres this drink in Turkey its like licorice and the put it in a glass and fill it mostly with water. It was great. In Turkey everything is on the rooftops in Istanbul. You walk down the old streets with the old buildings and everything looks dead. But everything is happening on the rooftop. All of a sudden you end up on the top of a building and you're in a restaurant, you see the people in the next restaurant over. There are clubs on the rooftop. Its crazy!"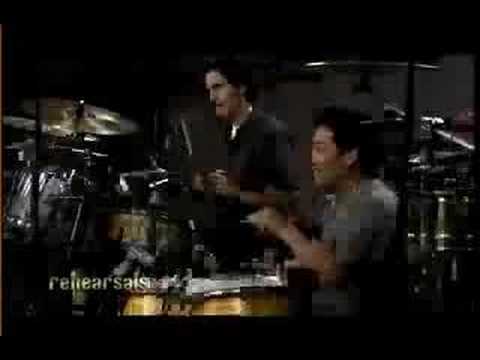 American Cities, American Restaurants
Wil-dog: "In Austin we go to the Salt Lick, which is right outside of the city. Its all you can eat, smoker barbecue. Its in the countryside in a big ole barn. All you see is a huge firepit. They don't use any sauce. In New Orleans, the Birdie Mart is a liquor store. They used to have a sandwich called "All that jazz" it was decadent. Ham, turkey, 3 kinds of cheese, special sauce, on a French roll. Raul came back once, he was hanging out with Stanton Moore from Galactic. Stanton was like 'Take a bit of this' and it was one of the best sandwiches he ever had.
Raul: "Theres this place called the New Orleans Cookery, was the first place I ever had turtle soup. It looks like Filipino style bloody meat, really good."
Jiro: "In Honolulu I like to go to Sushi Sasaguni, its the best sushi I've ever had. The guy there is kinda like the soup nazi on Seinfeld, but hes such an artist that he'll present the fish and  they tell you to eat it one bite. This other spot, in the old part of Honolulu, Ono's in Wikiki, they have this thing called laulau, its pork wrapped it taro leaves and cooked in the ground. They kinda steam it in there and all the pork fat soaks the taro leaves. Its good, its heavy but its good. Poi is a taro root and its hit or miss for people. Its kind of like rice, it's a little bland but I love it I could eat a whole bowl of it."
The band  is on tour in the US for the rest of the summer, promoting Fire Away. If you are in NYC, be sure to check them out July 9th at Celebrate Brooklyn! in Prospect Park.