Three Splattered Eggs
Reed Mathis claims to not have much to say about food, but that didn't stop him from sitting down with EM and revealing some foodie secrets.
Out of the Kitchen
Reed only spends, on average, 50 days a year in the kitchen of his San Fransisco abode.  You'll likely find him eating veggies and clean animals, whether he's cooking or munchin' another chef's creations.  Good, clean food allows Reed to perform on all cylinders and he values clean, natural, and healthy foods.
Food on the Road
Showing homage to the organic foods giant, Whole Foods Market has made traveling and healthy eating much easier for the band.  Often he and the other members of Tea Leaf Green will cross county lines to find quality food that keeps their batteries charged on the road. The band relies on Thai food or good Mexican food, both of which provide a nice bounty of vegetables.  Reed also noted that Vietnamese food always provides a good clean plate of food.
Favorite Places
R.Thomas Deluxe Grill in Atlanta, GA is one of his favorite places, "Fuck Yeah I love that joint" to be exact.  Reed recalled a recent trip to Paul and Elizabeth's in North Hampton, MA and always makes sure to stop in (he recommends the Cod dish).
Festival Express
Reed is familiar with the festival scene, as  he played with Jacob Fred Odyssey at more festivals then he can count and is continuing the tradition with Tea Leaf Green.
Mathis spoke about Jam Cruise and how he really enjoys the camaraderie of all the artists onboard, "It's really great to just catch up with all my musician friends".  While on the subject, Reed had to mention the amazing food on Jam Cruise, "It really reminds me of bible camp food". 
"High Sierra seems to have a really heady concentration of foods, there is always fresh wheat grass, and fresh espresso", this may be useful for any of you heading to this years festival.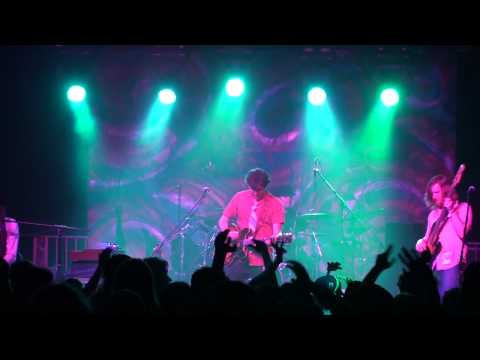 Speed Round
Breakfast? "Fresh Fruit".
Coffee of Tea? "Espresso when I can get it."
Favorite Dessert? "Chocolate Chip Cookies."
Last Supper? "Sushi."
Liquor or Beer? "I enjoy a good Vodka, I don't think whiskey agrees with my nervous system, and beer makes me grumpy."
"Daily Wheatgrass Shots Are Burning a Brand New Pathway Through My Brain"
Reed informed us that while touring with JFJO, he traveled with a wheatgrass juicer that  provided him and bandmate Brian with wheatgrass all day long.  In 1995, while in JFJO, Reed and the band would eat at a local Indian restaurant in Tulsa, OK every Sunday.  They quickly befriended the owners and even promoted gigs with them.  This partnership inspired them to write a song about their times there titled " Give Me A Palace Fresh Plate Funk". Be sure to check out India Palace next time you are in Tulsa!
Teal Leaf Green is going to on the road all summer. Their new album Looking West drops today!
Also, be sure to check out Reed's solo album coming out this fall.