Saxophones, Seafood, and Earl
It's hard to find good gumbo in the city, and it's harder still to get a Louisiana native to acknowledge that such a thing even exists. Lucky for enough for EM, Kevin Harris of Dirty Dozen Brass Band was on hand to give the lowdown on local New Orleans fare, tales from the road, and even some tips on his own version of the bayou favorite.
Thinking perhaps it might be wise to find a place with some familiar dishes, The Delta Grill provided the backdrop for such an occasion. Set just outside Times Square, Delta had that typical Crescent City vibe which you'd expect from a place set in NYC, but the food delivers. Harris sat down with EM and tried some great plates, starting with pot roast sliders topped with some classic Crystal hot sauce. Soon to follow was crayfish etouffee, seafood gumbo, and shrimp creole. Kevin gave the joint the thumbs up, which means a lot, cause this guy knows his food.
Being a NO native, the convo quickly delved into the recent spill in the gulf, and one could see that Harris had a full idea of how hard the area was hit. Since Katrina, he and the band are based out of Baton Rouge, but New Orleans is still right at his heart. The talk soon led to food and when asked about Mothers in New Orleans, famed for it's po' boys, Harris quickly replied that his favorite place for the classic sammy was "My house". But forget the po' boys; gumbo is this man's specialty. Kevin holds the title of being the best chef in the DDBB, and he shared some secrets about his favorite dish.
"My gumbo don't have no celery, onions, none of that. It's just pure okra. I cook minimum of eight pounds." That's a butt load of okra. "It takes me like four hours to cook it to where there's no more slime, and you cook it down to the chunks. Add some tomato paste, some water, and that's my roux. That's one pot. Over here in the other pot I got shrimp, crab, three kinds of crab, blue crab, stone crab, and Dungeness… hot sausage, smoked sausage…" This is one loaded bowl, similar to the one you're holding now, but resulting in a different kind of 'itus'.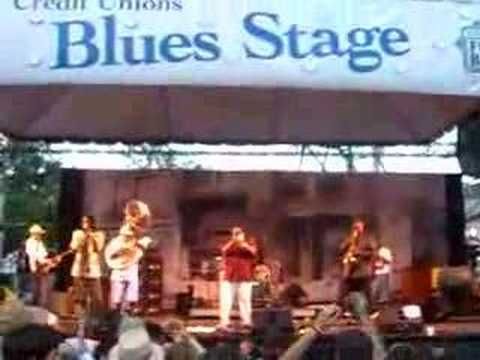 Harris tells of a time Dirty Dozen went to Australia and found a market where they were about to throw out a bunch of okra. Harris asked the farmer why he was tossing it and he replied that no one ever bought the stuff. Harris' response was to buy 12 pounds of the veg and introduce the Aussies to his local dish. The response was great and there is now a native New Orleans secret gumbo recipe floating around the island nation, although Vegemite is probably a ways off from making its way onto Mothers menu.
Kevin and the rest of Dirty Dozen Brass Band are playing domestic before they head to Europe at the end of July, so check out their site for tour dates, CD's, and some sweet pics. Check out The Delta Grill's menu here.